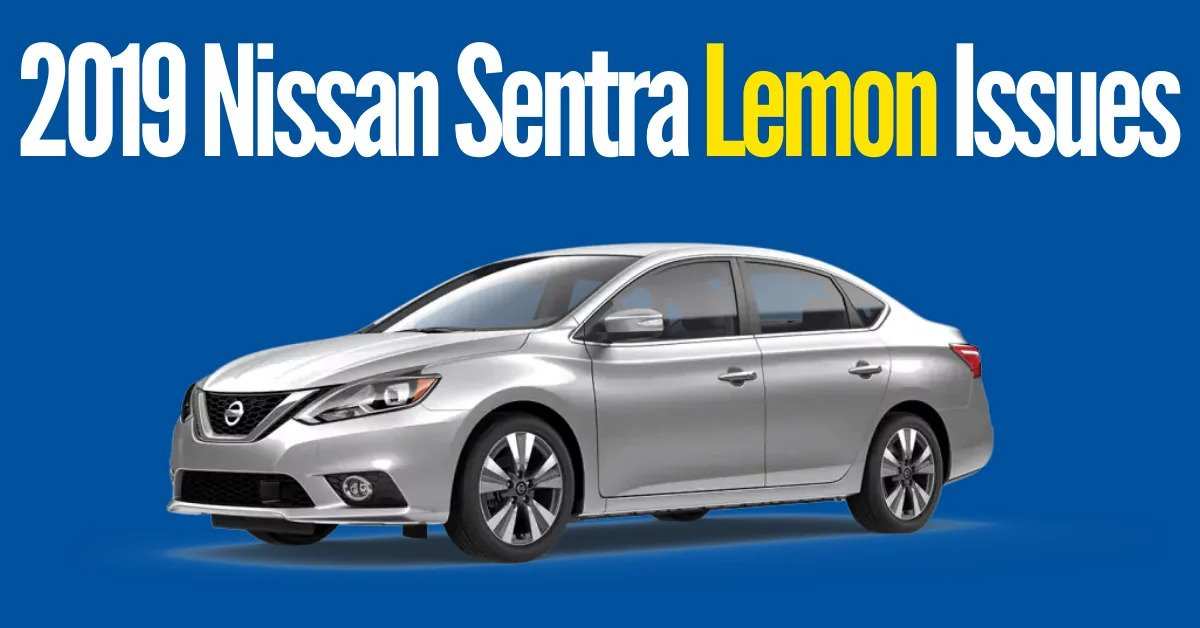 2019 Nissan Sentra Problems
The 2019 Nissan Sentra offers functionality and affordability, but perhaps at the cost of safety. This Nissan model has been plagued with a range of problems. Thousands of Nissan owners have reported concerns with the following systems in their Nissan Sentra vehicles. Some of the top complaints include, but are not limited to the following:
Automatic Emergency Braking System Defects
Faulty Radar System

 

Braking without any Obstacles Around
Illumination of warning lights
Check Engine Light On
CVT Transmission Defects
Lurching

 

Jerking
Abnormal Shifting
Stalling or Hesitation
Engine Overheating
Defective Throttle Body
Air Bag Light On
Loss of Power
Battery Defects
The 2019 Nissan Sentra's electrical system has spurred several complaints. Some drivers say that they have had to replace their vehicle's battery several times. Others say that key functions such as their radio or GPS will randomly turn on and off, even when the car is turned off.  Some other common lemon symptoms in the 2019 Nissan Sentra include: shuddering, clunking noises, sudden acceleration/deceleration, engine failure, check engine light, transmission failure, coolant hose leaks, and overheating. 
Keep in mind that lemon issues are not limited to these concerns. If you own a 2019 Nissan Sentra and have experienced these or other issues in your vehicle, then you could qualify for a refund or replacement vehicle under state lemon laws. 
Nissan Sentra Transmission
In addition to the Sentra's electrical system, many consumers have also documented problems with their vehicles' transmission system. The 2019 Nissan Sentra is fitted with Nissan's continuously variable transmission system (CVT), which is widely known for its poor performance. We have written extensively about the many problems with Nissan's CVT transmission. Several class action lawsuits have been filed against Nissan over the transmission system. Other popular Nissan models that are built with CVT transmissions include the Versa, Versa Note, Altima, and Juke. 
There is currently no Nissan transmission recall despite an overwhelming number of complaints from drivers. Nissan appears reluctant to acknowledge that there are major safety concerns with their CVT transmissions as they have also yet to announce any official fixes for CVT issues. The present Nissan recalls that include the 2019 Sentra concern visibility issues with the vehicle's backup camera. 
It is unacceptable that Nissan drivers must deal with a whole host of problems due to faulty transmissions in their vehicles such as shuddering, jerking, overheating, or transmission failure. If you have experienced recurring transmission defects in your 2019 Nissan Sentra, you should seek the advice of an expert lemon law attorney.
Consumer Complaints
Over 100 official complaints have been filed with the National Highway Traffic Safety Administration (NHTSA) regarding major concerns in the 2019 Nissan Sentra alone. Drivers have experienced safety risks involving the AEB, transmission, Nissan Sentra engine, and other components.
"We were on the interstate late at night going about 80 mph when the AEB system activated by itself and slammed on the brakes. We started to spin out, the traction control came on and ABS shut off effectively locking up my tires and throwing me into a full spin which resulted in me crashing into the guard rail."
"I was trying to merge into highway traffic and I pressed on the gas pedal to pick up speed, but the car just puttered along with the RPM at around 3000-6000 and I almost got rear-ended."
"Going at a speed of 65 mph+ the transmission seems to be cutting in and out, I have to either lay off the gas or pull over and let It sit for it to stop acting up and it'll stop for a while and then acts up again, I haven't had the car for a year yet. There were a few times where I almost got hit and swerved off the road because of it."
"The transmission had to be replaced after a year of owning the car. A motor issue happened today while driving home. It started sputtering and shut down while driving on the freeway. Dealer said it's a motor problem. I just spent $500 getting it repaired not even two days ago. The front collision sensor was repaired but it still doesn't work."
Get Expert Lemon Law Help for your 2019 Sentra
If you answer "yes" to any of the following questions regarding your 2019 Nissan Sentra or other vehicle, then you might own a lemon and you may be entitled to a full refund or replacement. 
Has your 2019 Nissan Sentra been out of service for several days due to repeated repairs?
Are your vehicle's problems recurring?
Did these issues begin under warranty?
To be certain that you qualify for a lemon law claim, call the Lemon Law Experts as soon as possible. One of our expert lemon law attorneys will begin with a quick and confidential case evaluation. If you qualify, they will then guide you through every step of the lemon law process, should you decide to pursue a case. 
Our award-winning team has helped thousands of clients across California recover millions in their lemon claims and there is no reason why we cannot help you get rid of your 2019 Nissan Sentra lemon. Our attorneys regularly secure their clients outstanding buyback settlements that cover all expenses associated with their lemons, including their legal fees. There are zero upfront costs and we do not get paid unless you win! Contact the Lemon Law Experts today to get started.