The Ford F-Series trucks have been a staple in the American automotive market, holding the title of the top-selling vehicle in the United States for many years. However, a recent class action lawsuit has raised concerns about potential defects in certain model years of the Ford F-150 truck. According to the lawsuit, these trucks may have serious engine problems, including  can increase the risk of accidents, injuries, or death.
If you have experienced repeat repairs with your Ford F-150 truck and have presented it for repairs to a Ford dealerships or authorized Ford service repair facility, you may have grounds for a lemon law claim.
The California Lemon Law provides protection for consumers who have purchased or leased defective vehicles that have been presented for repeat repairs during the manufacturer warranty. A skilled California lemon law attorney can help you understand your rights and represent you in pursuing a resolution to your case.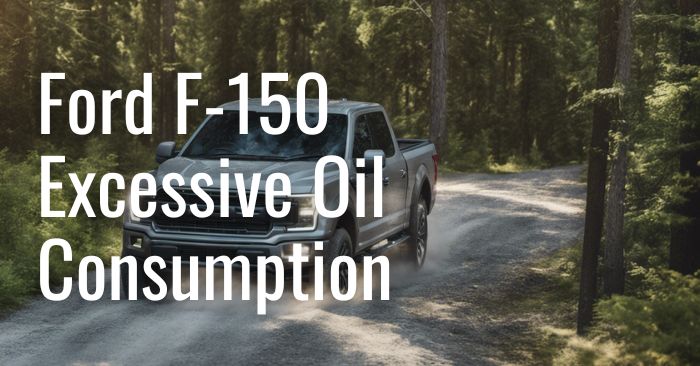 Ford F150 Excessive Oil Burn Lawsuit Overview
The Lyman v. Ford lawsuit alleges that the 2018-2020 Ford F-150 trucks with 5-L "Coyote" engines have a high rate of oil consumption. The oil change indicator may light up as soon as 3,000 miles after the last oil change.
Allegedly, this is due to defects in the Coyote engine, which cause rapid oil consumption, low oil levels, poor lubrication, engine rattling, stalling, and potential engine failure. The oil issues also allegedly damage other components, such as oxygen sensors, catalytic converters, and spark plugs.
The lawsuit further claims that defective pistons and piston ring assemblies allow oil to enter the engine's combustion chamber, leading to oil being burned and consumed during the combustion cycle. The positive crankshaft ventilation (PCV) system is supposed to prevent crankcase contamination and reduce emissions, but it is allegedly defective in these Ford F-150 trucks, leading to high emissions and increased pressure in the crankcase.
How do I know if my F-150 is affected?
The burning of oil in the combustion cycle reduces fuel efficiency and creates carbon deposits inside the engine, potentially damaging the engine, ignition components, and emissions parts. The Ford F-150 trucks are alleged to have faulty engines, causing higher emissions and reducing the performance of the vehicle.
Numerous drivers of affected Ford pickups say that they find themselves checking and filling their car engine's oil far more often than reasonably expected. Despite excessive effort to maintain proper oil levels, oil will continue to leak inside the engine in affected vehicles. If you notice your F150 burning oil at an increased rate, you may have purchased or leased a Ford with a defective engine. A lemon law attorney can help you understand your legal options and pursue a resolution to your case.
What makes and models are affected?
The following Ford F-150 pickup vehicles may be prone to manufacturing defects in their engines:
2018 Ford F-150
2019 Ford F-150
2020 Ford F-150
There does not appear to be a fix for the issue, according to the oil burn class action suit against Ford. In December 2019, Ford released TSB 19-2365 for 2018-2019 F-150 vehicles equipped with Coyote engines. The TSB pointed to high intake manifold vacuum during deceleration fuel shut off as the cause for excessive oil consumption and proposed a solution of reprogramming the PCM, installing a new engine oil level indicator and changing the engine oil and filter.
The lawsuit alleges, however, that instead of fixing the oil consumption defect, Ford simply lowered the minimum fill level on the revised dipstick to hide the problem and save on repairs. The complaint claims that Ford's change to the dipstick, which now considers a once alarming low oil level to be normal, did nothing to correct the oil consumption defect. Currently, the automaker has not issued a 2018 F-150 5.0 oil consumption recall, nor have they issued recalls for later model years.
Who can join the lawsuit?
You may be eligible to join a class action lawsuit if you own a 2018-2020 Ford F-150 vehicle with engine issues. Depending on your particular circumstances, it may be in your interest to opt out of a class action law suit and instead pursue an individual claim against Ford Motor Company.  You should consult with a lemon law attorney who can provide more information on the pros and cons of individual lawsuits as compared to joining a class action.
What are customers saying about Ford F-150 oil consumption?
The following are excerpts of formal complaints made by Ford F-150 drivers to the National Highway Traffic Safety Administration (NHTSA) regarding excessive oil consumption in their pickups:
"The vehicle appears to be using an excessive amount of oil and after operating for periods of time, the smell of burnt oil is apparent. Vehicle has less than 14,000 miles; there are no visible leaks, no visible damage or defect to the oil pan, and no visible defect or damage to the quick drain assembly. Vehicle oil was at maximum threshold one month ago and is now at lower eyelet of the dip stick indicator."
"The contact owns a 2020 Ford F-150. The contact stated while driving approximately 40 MPH, there was a rattling sound coming from the engine compartment with the check engine warning light illuminated. After stopping to inspect the vehicle, the contact discovered that the engine oil was extremely low."
Should I Pursue a Lemon Law Case or a Class Action Settlement?
Pursuing a lemon law case instead of a class action settlement may be more beneficial and tailored to your situation. Lemon law cases are individual legal claims brought against the manufacturer of a defective vehicle. If your case is successful, you may be entitled to a replacement vehicle or a refund. Lemon law cases can be a faster and more direct way to resolve your issue, as they don't require the collective effort of a group of people.
Class action settlements, on the other hand, are lawsuits brought by a group of people who have similar complaints against a company. In these cases, the plaintiffs work together to seek compensation from the manufacturer. If the settlement is successful, each member of the class may receive a smaller compensation or benefit, but the process can take longer and be more complex.
When deciding which option to pursue, consider the specific facts of your case, including the strength of your individual claim, the resources required to pursue legal action, and the likelihood of a successful outcome. If you are interested in filing an individual claim, we recommend consulting with an experienced attorney who can help you understand the options available to you and determine the best course of action.
Work with the Lemon Law Experts Today
The Lemon Law Experts are both knowledgeable and experienced in handling cases pertaining to California's Lemon Law and Ford lemon law claims. If you live in California and have been struggling with a problematic Ford or other vehicle, the Lemon Law Experts can help you get the resolution you deserve.
Our team can assist you in determining if your vehicle qualifies under the Lemon Law and guide you through the process of seeking compensation you deserve as a result of your vehicle's defects. With our expertise and skill, we can help you secure the best possible outcome in your case. If you're finding yourself repeatedly getting your Ford vehicle repaired, don't hesitate to reach out to the Lemon Law Experts today for a free case evaluation.