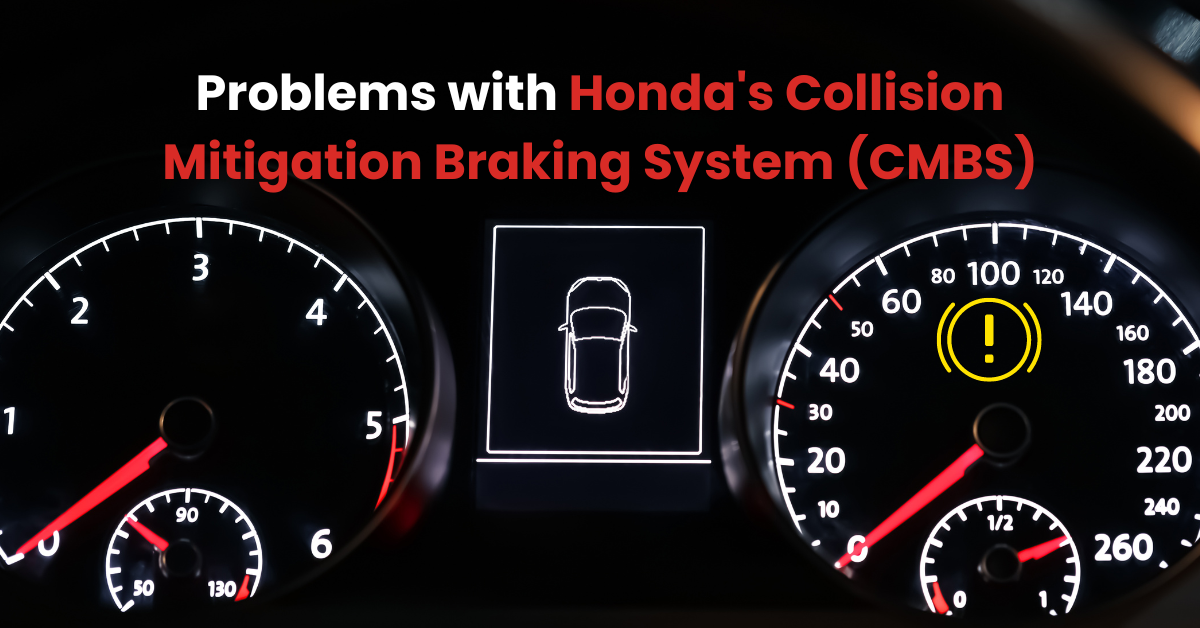 Nearly two million Honda vehicles are now under investigation for braking issues. 278 formal complaints from Honda drivers prompted the National Highway Traffic Safety Administration (NHTSA) to investigate the automatic emergency braking systems of both 2017-2019 Honda CR-V and 2018-2019 Honda Accord vehicles.
Of the complaints, 171 involved CR-V crossover vehicles and 107 involved Accord sedans. Unfortunately, six complaints mention collisions and minor injuries. 
Honda calls it automatic emergency braking system (AEB) the Collision Mitigation Braking System or "CMBS." Honda's CMBS is part of its greater driver-safety technology suite called Honda Sensing.
This automatic braking system is supposed to prevent collisions by warning drivers of potential obstacles nearby and applying the brakes when needed. Numerous Honda drivers, however, have experienced sudden and unexpected braking, even when there are no objects in their vehicles' path.
In recent years, Honda has been slammed with multiple class-action lawsuits. These suits say that they are at increased risk of accidents due to issues with the Honda Collision Mitigation Braking System. They accuse the automaker of continuing to sell vehicles that brake suddenly, despite there being no obstacles nearby. Braking problems unfortunately, have become quite common for relatively new Honda buyers. 
Honda Sensing and CMBS Problems
Allegedly, Honda has known about problems in both their Collision Mitigation Braking System and Honda Sensing suite since November 2013, when it received a report of CMBS activation resulting in a rear-end accident.
That same year, the National Transportation Safety Board announced an investigation into issues with AEB systems and concluded that they can in fact produce false safety alerts. This is one reason why several class-action lawsuits accuse Honda of knowingly selling vehicles with defects in the CMBS
In addition to Honda collision mitigation braking system problems, other driver-assist technologies in affected vehicles also routinely issue false safety alerts. Honda Sensing technologies include Road Departure Mitigation System (RDM), Adaptive Cruise Control (ACC), Lane Keeping Assist System (LKAS), and Traffic Sign Recognition (TSR).
Drivers have regularly reported to NHTSA of concurrent issues in both Honda Sensing driver safety-assist technologies as well as Honda's CMBS. One driver reported the following in their 2018 Honda CR-V, "The contact stated that while driving approximately 65 MPH with the Forward Collision Avoidance system activated, the vehicle independently stopped.
The contact stated that the Lane Departure Assist feature was inoperable. The contact was informed to manually select Forward Collision Avoidance: Adaptive Cruise Control for the Collision Mitigation System to work properly."
It appears that drivers can have concurrent issues with both systems. These conditions can make driving incredibly unsafe, especially if vehicles issue false warnings or suddenly brake at highway speeds. In response to this ongoing problem, Honda has issued one recall to address braking system issues in 2015 but aside from that, little else has been done to address these concerns. 
Does Honda have a Fix for Braking System problems?
The automaker has attributed problems with Honda Sensing and the AEB system to the radars in affected vehicles. Honda has previously instructed dealers to re-position these radars. They redacted this explanation shortly after and told service providers that weather and other driving conditions will always affect Honda Sensing technologies. As of now, it appears that Honda has no fix. 
The following is a list of Honda models that may have CMBS problems:
2016–2020 Honda Accord
2016–2020 Honda CR-V (EX, EL and Touring)
2016–2020 Honda Pilot
Although these are the primary vehicles that regularly present braking system problems, other Honda vehicles may also be affected, including the Honda Civic, Insight, HR-V, Passport, Odyssey, and Ridgeline. For instance, there are multiple formal ratings to NHTSA that discuss braking system errors in Honda Civic vehicles from the same model years as those previously listed.
One driver discussed an electric braking problem in their 2018 Honda Civic: "I was driving on a surface street going approximately 5 – 8 mph and I was 2-3 car lengths from the vehicle in front of me when my vehicle's automatic emergency braking system engaged without warning, causing the car behind me to have to brake abruptly."
The main concern with defective automatic emergency braking systems is sudden braking, which is likely the result of either a software error or problems with automatic braking sensors on affected vehicles. There are other symptoms, however, that could indicate issues with the AEB system in certain Honda vehicles. These include:
Sudden deceleration
Jerking
Shuddering
Multiple class-action lawsuits mention these issues along with random engagement of the braking system. Some Honda drivers also say that their vehicles will mistakenly detect opposing traffic, weather, shadows, and other roadway objects as pedestrians or other vehicles, while simultaneously failing to detect real nearby obstacles. 
Honda CR-V Problems
Across model years 2016-2020, there are hundreds of complaints that mention problems with the forward collision warning system in Honda CR-V crossovers. In the following formal complaint to NHTSA, one driver spoke about how their 2017 Honda CR-V would suddenly brake in the same place on a highway, "I was lightly braking as I approached an intersection where I needed to turn right. There were no vehicles in front of me.
The weather was clear and dry, about 70 degrees. As I slowed, the AEB system flashed 'BRAKE' several times, and then the car came to a sudden and complete stop. The same thing happened to this car at the same spot several months ago under the same circumstances — no other traffic ahead and good weather. There is a metal plate on the road ahead of where these incidents took place." 
Honda Pilot Problems
Several Honda vehicles display concurrent problems with both Honda Sensing and Honda's CMBS, as this Honda Pilot driver noted in a formal report to NHTSA, "the contact owns a 2019 Honda Pilot. While driving various speeds, the front driver side brake sensor activated and [made a] warning beeping erroneously, which signaled the contact to brake. In addition, the brake sensor warning indicator illuminated."
Honda Accord Problems
Some Honda owners and lessees say the collision warning systems in their vehicles activate due to minor surface changes on the road, as one 2018 Honda Accord driver notes to NHTSA, "My vehicle has activated the collision avoidance/emergency braking on numerous occasions for no reason…
It generally happens when there are lines in the road, or a change in the color or the road surface. It happened again last week while I was traveling on US 301 near Maxville Fl. There is road resurfacing going on, therefore one lane is a lighter asphalt, and the other lane is dark. I was going about 60 mph, changed lanes, and the car slammed on the brakes and displayed the brake warning on the instrument panel."
If you have experienced similar concerning symptoms in your vehicle, it could qualify as a lemon. Honda vehicles with CMBS problems may or may not be included in one or several class-action lawsuits against the manufacturer. If you wish to pursue an individual lemon law claim, you should opt out of these class-action suits before their deadlines. An experienced lemon law attorney can assist you in this process. 
Should I Opt Out of a Class-Action Lawsuit?
Class action settlements often involve thousands of consumers and do not substantially benefit the individuals involved. In our opinion, qualified cases should be opted out of class action cases. 
The result of pursuing an individual action can be substantially beneficial for the consumers involved as the consumer can pursue the claim and remedies specific to their own case.
Have Honda Braking Issues? Contact the Lemon Law Experts
Shuddering, jerking, sudden braking, and false warnings are all indications that your Honda or other vehicle could be a lemon. A lemon is a vehicle that the manufacturer is unable to fix despite several repair attempts under warranty. If you suspect that this could be the case for your vehicle, you should consult with a reputable lemon law attorney who can inform you of your options and legal rights. 
Under the California lemon law, you can qualify you for a refund, replacement vehicle, or cash compensation if your vehicle is a lemon plus the payment of your attorneys fees and costs.
If you purchased or leased your 2016-2022 Honda vehicle in California and you are experiencing problems with the braking system, you should contact the Lemon Law Experts as soon as possible. 
The Lemon Law Experts have been representing consumers across the state of California against large auto manufacturers such as Honda since 2009. Our team of attorneys have recovered millions in refunds and cash settlements for California consumers.
If you have any questions about your potential lemon law case, one of our Lemon Law Experts can assist you through a quick, no-obligation case evaluation. Get started by giving us a call or filling out an online form today.